JabbaTalks 'Full Monty' Mobile Tariff
JabbaTalk are pleased to announce the launch of its very own bespoke mobile tariff powered by Vodafone.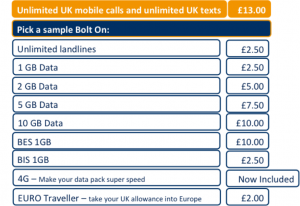 The sim only deal "The Full Monty" features:
UNLIMITED calls to UK Mobiles
UNLIMITED calls to UK 01, 02 & 03 Numbers
UNLIMITED UK Texts
1 GB Data Bolt-on
Vodafone Voted Best UK Network
Get this fantastic value deal from just £13.00 + VAT per month (30 day contract) – You can port your number in from any other UK service provider, all we need is you Porting Authorisation Code (PAC) which can be obtained from your current provider.
Are you also looking to reduce your Business Landline Bills?
Call's from JabbaTalk Business Landlines are FREE to JabbaTalk Vodafone mobiles! Yes actually ZERO – And everything all on One Bill too!
Contact us today on 01524 39212 to order your brand new Vodafone sim card from JabbaTalk.