Project Description
FM-Eco4/FM-Eco4+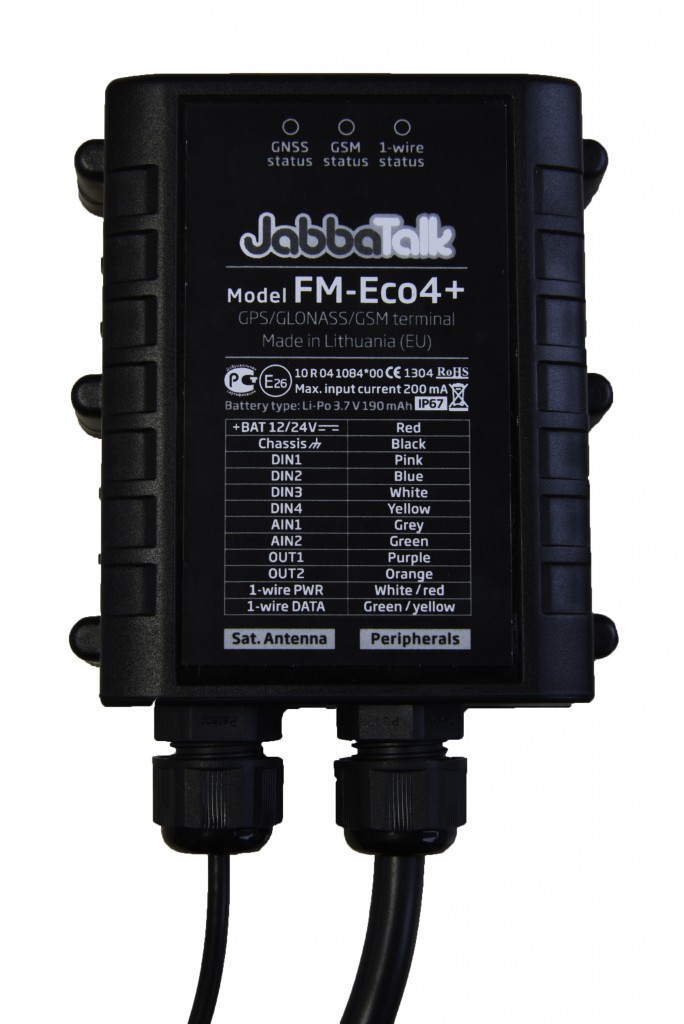 FM-Eco4 is a GPS tracker created for standard vehicle tracking and monitoring tasks such as providing information on vehicles location, speed, route, fuel level, mileage, etc.
It is designed with full dust and waterproof housing (IP67 certified) to withstand various harsh working environments. Device also has an integrated battery (FM-Eco4+ version) which enables it to continue data sending after the disconnection from the power source. Though it is a standard GPS tracking device FM-Eco4 stands out as being physically and technologically the most reliable device.
Best used for:
Fleet monitoring and control
Route and order optimisation
Fuel control and management
Eco-Drive
Temperature control
FM-Eco4 functionalities:
Driver behaviour monitoring (Eco-Drive)
Driver registration and identification
Temperature monitoring
Remote ignition blocking
Internal Geozones
Antijamming
Various features via SMS
GSM:  Quadband GSM module
GPS / GLONASS: Ublox GPS/GLONASS module
I/O: 
Power supply: 10-32V (resistance to surge voltages up to 72V)
4x digital inputs
2x digital outputs
2x analog inputs (input voltage 0-30V)
1-Wire Interface
Internal Memory: 4MB
Other:
IP67 standard. Water resistant
Low power consumption
Internal GSM antenna
USB – the configuration, diagnostic interface
3 axis accelerometer
3xLEDs (LEDs) – the status of GPS, GSM status and 1-wire peripheral status
Operating ambient temperature from -35 ° C to + 55 ° C
RoHS standard
Internal power source – battery (FM-ECO4 +)
Firmware:
Formation records by time, distance and angle
4x configurable profiles (replaceable by IO settings or the mobile operators)
Remote configuration
Remote operating system update (OTA)
"Eco-Drive" functionality
Dimensions:  82x63x28mm
Please contact a JabbaTalk advisor today on 01524 39212 to discuss your options further.