Project Description
FM-Tco4 HCV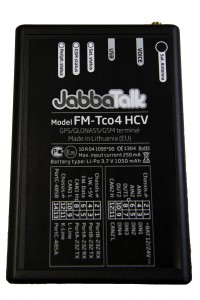 FM-Tco4 HCV stands out as the most technologically advanced GPS tracker – it collects data and provides useful insights from modern trucks and other transportation equipment.
The device is distinguished by the ability to scan a vehicle on-board computer data J1708 and FMS standard and accurate data on the state of the vehicle.FM Tco4 HCV allow a few minutes to read the digital tachograph data and send them in ".ddd" format in real-time monitoring system. Integrated Dual CanBus feature allows simultaneous read data from the vehicle on-board computer and recording equipment to receive digital information.
RS232 and RS485 ports running at one time, while the 1-Wire interface FM Tco4 HCV can be connected to a variety of additional devices, thus increasing vehicle safety and driver control. In addition, the unit can monitor ThermoKing, OptiTemp and Carrier refrigeration data.
The device comes with the latest telematics technology, so the FM-Tco4 HCV enables a wide range of vehicle fleet management and optimisation of operations, thereby reducing costs and increasing efficiency.
Ability to read vehicles on-board computer (CANbus) data in J1708 and FMS standards provides you not just the basic tracking information but enables you to the more comprehensive information about vehicles status. FM-Tco4 HCV is designed to read digital tachographs data and send it in .ddd format to the real time tracking system in a matter of a few minutes. To achieve the best results FM-Tco4 HCV has Dual Can functionality which means that you can get data from vehicles CANbus and obtain digital tachographs data at the same time.
RS232 and RS485 ports feature to work at the same time and 1-Wire interface enables FM-Tco4 HCV to be connected with large number of additional accessories for vehicles safety and drivers control. In addition device also monitors ThermoKing, Optitemp and Carrier refrigerators data.
Equipped with the latest telematics technologies FM-Tco4 HCV allows to implement wide range of fleet management tasks resulting in an absolute control over the fleet, operating costs reduction and increased efficiency.
Best used for:
Fleet monitoring and control
Route and order optimisation
Fuel control and management
Remote Tachograph data reading and downloading
Eco-Drive
Temperature control
FM-Tco4 HCV functionalities:
Driver behaviour monitoring (Eco-Drive)
On-board computer data reading (CANbus: J1708, FMS)
Tachograph data reading and downloading (.ddd format)
Temperature monitoring
Driver registration and identification
Remote ignition blocking
Fuel monitoring
Internal Geozones
Anti jamming function
Dual transparent channel
Various features via SMS
GSM:  Quadband Module
GPS / GLONASS:  Ublox GPS / GLONASS module
I / O:
Supply voltage: 10-32V (resistance to surge voltages up to 72V)
4x digital inputs (2 x counting pulses)
2x digital outputs
2x analog inputs (input voltage 0-30V)
1 x RS485, 2 x RS232, CAN 2 lines, FMS, LCV, 1-Wire Interface
Internal Memory: 4 MB Micro SD card (up to 32BG)
Other Peculiarities:
Internal GSM antenna
USB – the configuration, diagnostic interface
3 axis accelerometer, gyroscope (there is an option to install)
3 x LEDs (LEDs) – the status of GPS, GSM status and peripheral status
Ambient operating temperature from -35 ° C to + 55 ° C
RoHS standard
Thermoking refrigerators scan
Carrier refrigerators scan
OBD errors and parameter reading
Battery Li-Po 1050 mAh 3.7 V
2 SIM card for arrangement (available upon request)
Microphone jack
Powerful 1-wire power – operates more peripheral 1-wire devices simultaneously
Firmware features:
Formation records by time, distance and angle
4 x configurable profiles (Changeable by IO settings or the mobile operators)
Remote configuration
Remote operating system update (OTA)
"Eco-Drive" functionality (CAN, OBD, ACC)
High priority events by sending IO settings and a variety of conditions
CAN FMS data in real-time, two CAN bus lines, FMS, LCV (light commercial and TP scan), the Garmin FMI support, tachograph and driver downloads files remotely, Weighing system support, maintenance Optitemp refrigerators, J1708 interface support
Dimensions:  111x75x25 mm