TrustTrack is a real-time vehicle monitoring and control software. With TrustTrack you can manage any type of fleet and save everyone's time and money. You will always know what is happening with your fleet and what could be improved.
Powerful features
It also includes features to manage all aspects of the fleet – vehicle, driver, route, cargo, maintenance, planning, safety, fuel, etc. It empowers managers and drivers to perform like never before and helps to set whole company on the path to business growth.
Always know everything about your vehicles and improve overall fleet performance.
Take a look at what major changes comes with TrustTrack:-
Fast and smooth – no more waiting for pages, objects and reports to load.
Intuitive – users will see only the required information. Smart overviews makes it easy to use the system and acquire key information all in the palm of your hand.
Modern Look – rich data is presented in a pleasant infographic style. Design that stands out from the crowd and increases user satisfaction – Has that familiar feel.
Smart search – innovative tool to navigate system and gain the highest value.
Mobile friendly – adaptive and responsive design that fits to any screen size. Comfortable to use on all mobile devices, using our free APP
Remote download of Tachograph head unit & driver card – Make tachograph files management fast and simple.
Driver Communication APP – Communicate with your fleet via TrustTrack & OnTrack driver APP.
Time analysis – Time analysis module in TrustTrack platform allows managing drivers working, driving and resting time
Track and operate your vehicles 24/7 with JabbaTalk's TrustTrack vehicle/fleet tracking system. Real-time information on your vehicle, driver and cargo enables you transport manager to make better decisions that contribute to business growth and success.
Fleet Monitoring and Control
Real-time information on your vehicle, driver and cargo enables you transport manager to make better decisions that contribute to business growth and success. Our tried and tested GPS tracking device's connected with the TrustTrack system creates a solution that is suitable for all fleet types and sizes.
Fast and effective fleet management
Fleet monitoring gives greater control over the fleet resulting in reduced vehicle operating costs and saved employee time. It also enables timely decisions to be made based on accurate data, and improves the overall efficiency of the business process.
Secure cargo and passengers
Real-time data and alerts enable transport managers to react instantly to critical or unplanned situations and avoid possible financials losses or damage to vehicle, cargo or driver.
Safe and effective vehicle use
Real-time information improves the work efficiency of transport managers and drivers, and contributes to overall vehicle safety. The solution allows vehicle ignitions to be blocked, and, in the case of theft, vital information can be provided for vehicle recovery.
Fuel Monitoring and Control
Fuel costs can account for one third of all fleet maintenance costs, so it is important to manage it in the best possible way in order for a company to reduce operational costs. Our fuel monitoring and control solution provides companies with accurate fuel information that allows companies to make decisions that help to save and optimise fuel consumption.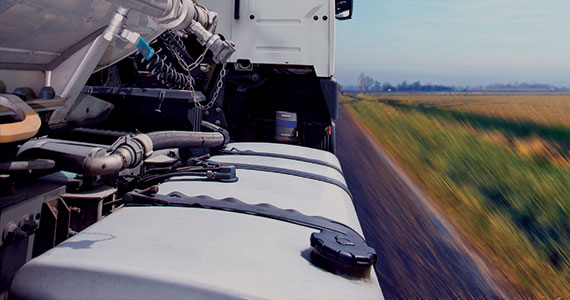 Accurate fuel management
Detailed information on fuel level and consumption allows transport managers to compare drivers and vehicles according to their fuel consumption and distance traveled, plan trips and refuelling stops, and analyse real-time fuel consumption data to improve fleet management.
Fuel savings and control
Real-time fuel level and consumption information allows transport managers to prevent and detect fuel theft events. Fuel level decrease and increase events are clearly displayed, therefore it is possible to identify fuel thefts and compare whether a driver filled a fuel tank for as much as he paid. Furthermore, when a driver knows that fuel is being monitored, he is less likely to waste fuel with his actions, as he will have to take responsibility for it.
Eco-Drive
Teaching drivers small simple driving habits will save a business a significant amount of fuel and reduce vehicle maintenance costs. This solution processes trip data and creates insights into possible improvements for increasing fleet performance.
Fuel savings and control
Bad driving habits such as harsh braking or acceleration, idling, or speeding waste fuel and increase its consumption. The Eco-drive solution identifies these bad habits and shows how employee driving style should change in order to save fuel.
Driver behaviour and motivation
Detailed trip information permits the ranking of drivers by safety or fuel efficiency, and the creation of a salary system based on their performance. This can be used to motivate drivers and improve their driving style.
Secure cargo and passengers
A safer and more relaxed driving style also contributes to the safety of vehicle, cargo and driver by reducing the risk of accidents. Moreover it creates a better experience for passengers and prolongs the life of the vehicle.
Remote Tachograph Data Download
Remotely download tachograph unit and driver card data with TrustTrack software. Make tachograph files management fast and simple. Our tachograph solution will simplify the management of driver working and resting time. It helps to ensure that drivers work the appropriate amount of time and do not break any regulations.
Functionalities
Download tachograph data
Download driver card data
Create schedules for automatic download
Get additional tachograph data for faults, events, speed and technical data
Driver detection and automatic assignation from driver card
Benefits
No more expensive and time-consuming physical tachograph data collection
Prevent from braking European Union regulations and paying fines
Avoid tachograph data being overwritten
Timely route re-planning and driver selection
Plan longer trips and save time

Regulation
European Union regulations requires to periodically download tachograph unit and driver card data and make it available for up to one year.
How it works
GPS tracking device is connected to a digital tachograph and periodically downloads its data. Downloaded data is sent to a TrustTrack software where it can be downloaded to a computer in .ddd format.
Time analysis
Time analysis module in our TrustTrack platform allows the management of drivers working, driving and resting time. It also shows the summary of driver's day and week – how long has they have been driving, working and when they will need to make a daily or weekly rest.
Showing how much time is left to drive or if the driver already exceeded the allowed amount of time, this helps to plan a vehicles journey more efficiently and helps to avoid fines related to driving time regulation.
Time left to drive this day and week
Time already driven and worked this day and week
Time when to make a next daily and weekly rest
Extended driving and reduced rest times
NEW: Tachograph middleware solution
Tachograph solution is now available for any tracking platform!
Download tachograph data files and time analysis reports directly to your computer with TrustTrack tachograph middleware solution. This way you won't need to integrate tracking hardware to your currently used tracking platform.
Tachograph middleware solution downloads tachograph data and time analysis reports directly to computer. You won't even need to log in to the tracking platform. Moreover, having files and reports from tachograph, you can even start creating your own data analysis tool.
Get tachograph data without integrating hardware into your own platform
Make your own reporting and data analysis tool
Get .ddd files without even logging in to the platform
Save integration costs and time
Easy and flexible integration using API
Make your current solution more advanced

Vehicle safety
Remote ignition blocking and alert buttons prevent a vehicle from being stolen. Different means of driver identification allow those responsible for the vehicle and cargo at a certain time to be determined. The engine relay is a device designed for blocking the engine of a vehicle. It offers protection against unauthorised use of the vehicle. Remote activation of the relay is possible through a monitoring and control system or by SMS.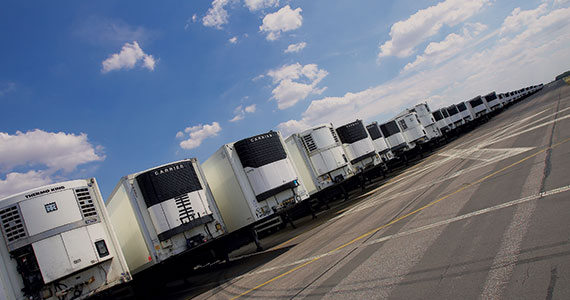 Perishable cargo protection
Ensuring the right temperature is essential for perishable goods transportation. With this solution, the temperature can be monitored directly from the refrigerating equipment, and temperature sensors can be installed for extra protection.
CAN Bus and OBD II data reading
Get more detailed information about your fleet by obtaining data directly from vehicle's CAN Bus or OBD II. CAN Bus and OBD II data reading solution will enable you to manage trucks and light commercial vehicles more efficiently.
CAN Bus data reading
This solution reads CAN Bus data from FMS, J1708 and LCV standards. FM-Tco4 HCV, FM-Tco4 LCV or FM-Pro4 devices with EasyCAN can be used to read CAN Bus.
Engine total fuel used, fuel level, fuel rates
Engine speed (RPM)
Engine hours
Brake, clutch, accelerator position
Cruise control
Vehicle ID
Axle weight
Wheel based speed
Engine coolant temperature
Ignition
Etc.
OBD II data reading
FM-Tco4 LCV reads standard ODB PID and generic DTC (powertrain) codes and can get RPM, speed, odometer, fuel level, VIN and other via OBD II connection!
Standard OBD PID codes
Generic DTC (powertrain) codes
RPM
Speed
Odometer
Fuel level
VIN
*Parameters available via CAN Bus and OBD II depend on used equipment and vehicle model. For detailed information about available parameters for specific vehicle models, please contact us.
Payment Plans & Services
Currently there are four payment plans depending on your requirements:
Basic
Basic Plus
Standard
Premium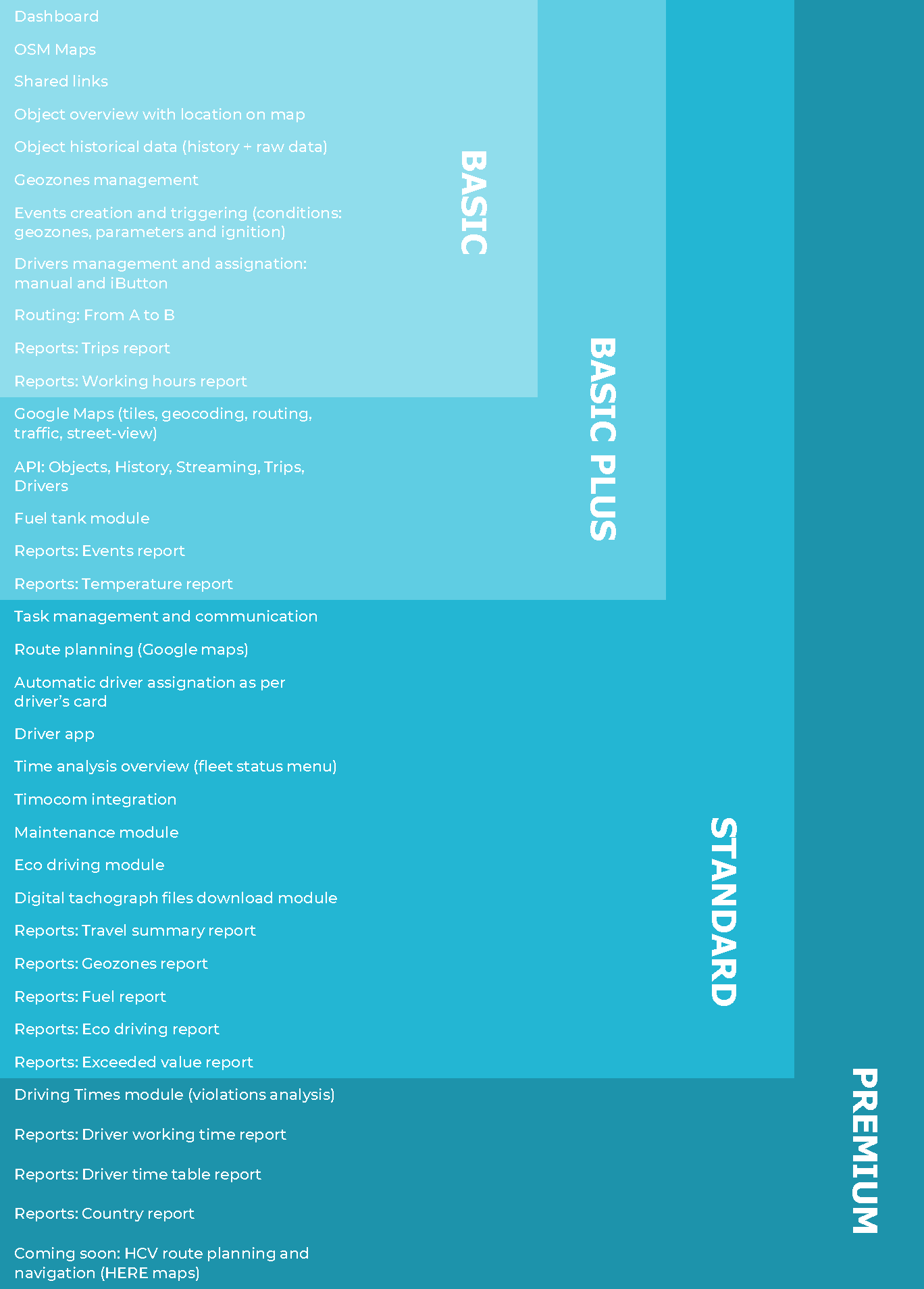 ---
API and web services
TrustTrack provides most of the data from a vehicle's on-board computer (CANbus) such as speed, fuel consumption, RPM's, mileage, etc – TrustTrack API and web services also allow it to integrate with other systems and to make processes more effective and create new solutions.
iOS and Android Apps
The TrustTrack APP can also be used on all iOS and Android devices.
It really couldn't be simpler, call us today to understand how your business could start benefiting from our TrustTrack Vehicle Tracking & Fleet Management Solutions.
Please contact a JabbaTalk advisor on 01524 39212 to discuss your options further.