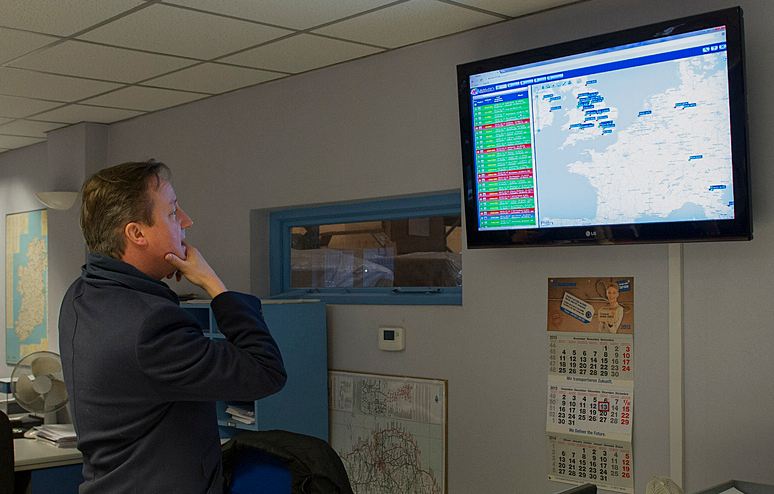 Prime Minister Mr. David Cameron visited one of our customers F. Edmondson & Sons on White Lund Industrial Estate in Morecambe last week and was 'Very Impressed' with the system and their ability to see all of their fleet at anytime, anywhere in the world using our SureTrack system.
It comes on the day the Government announced a raft of road-building projects to deal with so-called 'pinch points'. Part of that announcement was confirmation of £111 million worth of funding for the Heysham to M6 link road.
He says 'The building of the Heysham to M6 link road will be a 'Game Changer' for our district'. Speaking on a visit to Morecambe, The Prime Minister also admitted he had been stuck in traffic coming in from Lancaster.
He also praised Morecambe MP David Morris, saying: "He has fought long and hard for this to happen.
"It's going to make for much more reliable journey times, a great lift to local business people and it's a real game changer for this area.
"Of course I have sympathy for those who have been affected (by having to move homes and businesses) but the overwhelming view is that this is going to be of benefit to Morecambe and is going to mean more jobs.
"I've had a very positive message from the local business people I've spoken to today. (The principal of) Lancaster and Morecambe College was telling me about how many more apprenticeships and training opportunities it will create. If you look at the expansion that could happen at Heysham Port then you can see how important this is.
"Transport infrastructure really matters, especially with seaside communities and I'm sure that will be the case in Morecambe."
Alistair Eagles, Managing Director of Seatruck Ferries at Heysham Port, said: "The road is fantastic news and all the businesses are delighted to have the Prime Minister come to the area to rubber stamp it."
Mr Cameron was accompanied by David Morris and Eric Ollerenshaw, MP for Lancaster.