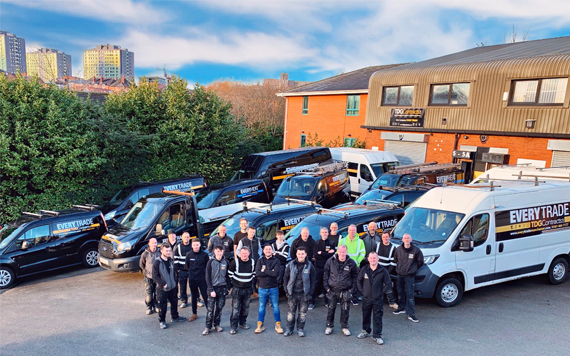 EVERYTRADE – TGD Contracts Ltd. are a family run company with over 35 years industry experience. They are on a mission is to become the best builder in the North West and are obsessed with offering the best customer experience at the right price. JabbaTalk were invited to their offices in Stockport to demonstrate TrustTrack and its advantages over other telematics systems available in the UK today. Read below to see what Jamie Smith had to say about us.
Jamie Smith, EVERYTRADE's Projects & Logistics Coordinator is quoted as saying "We have been interested in tracking our ever-growing fleet of vehicles for a while – primarily for security and insurance purposes. When we have approached companies to do this previously, we have been subject to lots of sales patter, relentless phone calls – and generally not a very appealing service. Steve introduced me to JabbaTalk's tracking system – and instantly, I knew it was exactly what we were looking for; the ability to add and track numerous drivers/vehicle, not at all overcomplicated to use – and most importantly the ability to create periodic reports based on the whereabouts of the vans.
I would have been happy with just that, however, after realising that JabbaTalk were primarily a telecoms company – we brought up the idea of moving our office phones and broadband over to JabbaTalk. Like that it was done.
The result is now we have a very fast internet connection in to our office, very much-improved phones & phone system, and of course a great vehicle tracking system.
Thanks to Steve, Andy and the team for making the transition an easy one – and helping to resolve any queries very quickly".
If you'd like to speak to us about any of our products or services, please do not hesitate to get in touch.